Regina is primarily intended for journeys of between half an hour to three hours with regular station stops. It has a flexible design which allows an efficient flow of passengers, even when passengers have a lot of luggage.
Regina, from Bombardier is essentially a two-car electric multiple-unit train that can be extended through additional middle cars. Each car has two wide doors on each side and spacious vestibules. This allows for an efficient flow of passengers, even when passengers have a lot of luggage One car also has a low-floor entrance step at the same height as the normal level of the platform, with an internal wheelchair lift. Since Regina has a wide car body, with as many as five seats across, passengers will usually be able to find a seat, even at peak times. The trains have regenerative electric brakes, an efficient drive system and track-friendly bogies. This creates comfortable travelling and low operating and maintenance costs for both the trains and tracks. Power outlets in the overhead luggage rack and repeaters for mobile phones are fitted as a standard. Regina comes with an internal wheelchair lift, toilets for people with reduced mobility and generous space for items such as wheelchairs and prams.
Genom att Regina är ett brett tåg, med upp till fem sittplatser i bredd, har passagerarna goda möjligheter till sittplats även i rusningstrafik. Tågen har återmatande elbroms, ett effektivt drivsystem och spårvänliga boggier. Det ger god åkkomfort och låga drift och underhållskostnader både för tåg och bana. Som standard finns eluttag i hatthyllan och förstärkare för mobiltelefon.
Regina har som standard en invändig rullstolslift, handikapptoalett och ett generöst utrymme för exempelvis rullstolar och barnvagnar.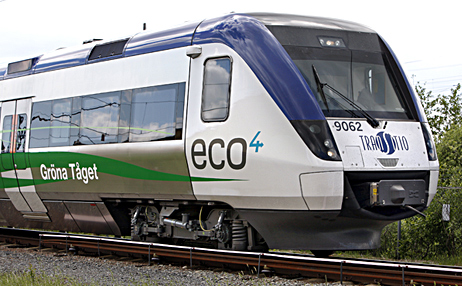 2 v: 170 sittande,
3v: 260 seated
Find out more and download documents
related to this type of rail vehicle here.