Dosto (ER1) has been designed to provide comfortable journeys of up to two hours, with the possibility to use WiFi and charge computers at every seat. The vehicle meets the requirements for accessibility, for example with space for wheelchairs and adapted toilets for people with reduced mobility.
AB Transitio has procured 60 four-car, double-decker electrical multiple units of the Dosto model from Stadler, for Mälardalstrafik, Uppsala lokaltrafik and Tåg i Bergslagen. Eight vehicles have been procured on behalf of Region Uppsala, and seven of the same type of vehicle have been procured for Tåg i Bergslagen. The vehicles for Mälardalstrafik and Uppsala lokaltrafik will be delivered in 2021-2022, and those for Tåg i Bergslagen in 2022-2023. The cars are made of aluminium profiles. This makes the trains light and environmentally friendly, while meeting all applicable requirements, including requirements for crash resistance. Pressure-tight carriages means that discomfort caused by sudden pressure variations, such as when travelling through tunnels, is eliminated. The interiors are light and airy, with generously sized entrance areas and wide staircases for optimum passenger flow. Further, sound-reducing, non-slip carpeting has been fitted throughout the train. Each seat has a reading light and air conditioning has been installed in the passenger compartments and driver's cab. The driver's desk has been designed according to applicable requirements and in line with the latest findings in ergonomics. The driver's cabs are pressure-tight and have two side doors and fixed steps for driver safety. The information system is equipped with loudspeakers and information screens.
Vagnskorgarna är tillverkade i aluminiumprofiler som gör att tågen blir lätta och miljövänliga samtidigt som det uppfyller alla nu gällande krav inklusive kraven på kraschtålighet. Vagnarna är trycktröga, vilket innebär att obehag förorsakat av plötsliga tryckvariationer, vid t ex tunnelpassager elimineras.
Interiören är luftig och ljus, det är generöst tilltagna entréområden och breda trappor allt för optimalt passagerarflöde. Det är dessutom ljuddämpande och halkfria mattor i hela tåget. Läslampor finns placerade vid varje sittplats och det är luftkonditionering i passagerarutrymmen och förarhytter. Förarplatsen har utformats enligt gällande krav och även enligt de senaste rönen inom ergonomi. Förahytterna har två sidodörrar och fasta fotsteg för förarens säkerhet och de är även trycktröga.
Informationssystemet är utrustat både med högtalare och informationsskärmar.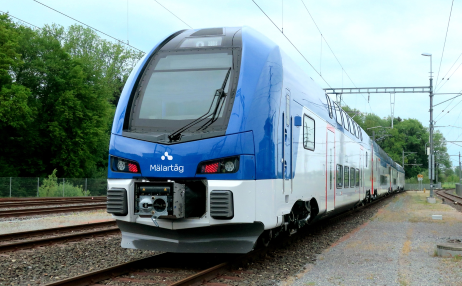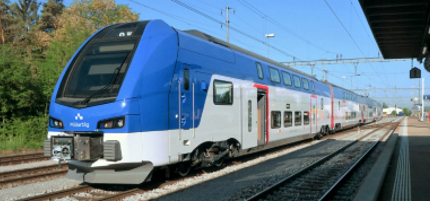 357
sittande (inkl.fällstolar)
Find out more and download documents
related to this type of rail vehicle here.