Both the X11 and X14 are comprised of two-car units. Each car unit on the X11 and X14 has four doors per car unit. The X11 and X14 use a mixed braking system combining electric and mechanical brakes.
The X11s are primarily used within the Krösatåg partnership and in Norrtåg's transport system. X14s are used by Tåg i Bergslagen on the Ludvika-Västerås line. The X11s have been refurbished with a completely new interior and exterior colour scheme. Amongst other things, they now have video surveillance systems, passenger information systems, energy consumption monitors, 220V sockets in most seats, new energy-saving interior lighting, new toilet facilities adapted for people with reduced mobility, new seats in the passenger compartments (2+2 seating), new driver seats, introduction of a train master compartment, new wall coverings, blinds in the saloon carriage windows, new bike racks, luggage racks and mobile phone repeaters installed.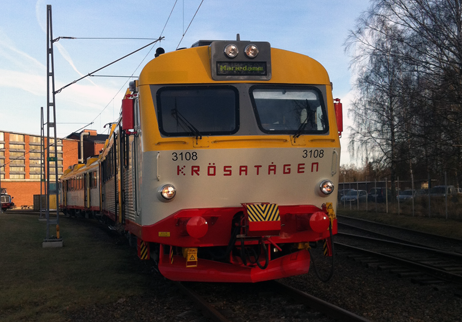 X11 139 seated
X14 131 seated
Find out more and download documents
related to this type of rail vehicle here.