Both the X11 and X14 are comprised of two-car units. Each car unit on the X11 and X14 has four doors per car unit. The X11 and X14 use a mixed braking system combining electric and mechanical brakes.
X11:orna trafikeras främst i Krösatågssamarbetet samt hos Norrtågs trafikeringssystem. X14 trafikeras på sträckan Ludvika-Västerås.
X11:orna är ombyggda med en helt ny interiör samt exteriör färgsättning. De har bl.a. fått videoövervakningssystem, passagerarinformationssystem, energimätare, 220 V uttag vid de flesta sittplatserna, ny energisnål interiör belysning, nytt WC-utrymme anpassat för rörelsehindrade, nya stolar i passagerarutrymmena (2+2-sittning), nya förarstolar, införande av tågvärdskupé, nya väggbeklädnader, solskyddsgardiner i salongerna, nytt cykelställ, bagageställ samt mobilrepeater installerade.
Fordonen har målats om exteriört enligt önskemål från respektive hyrestagares/trafikeringsområdes färgsättning.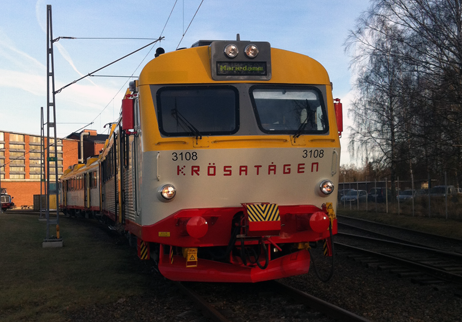 X11 139 seated
X14 131 seated
Find out more and download documents
related to this type of rail vehicle here.